The wiki is lacking in content. You can help by creating a new article. See the to do list for more ways you can help.
Canoe
From Final Fantasy Wiki
Jump to navigation
Jump to search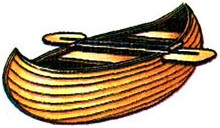 Canoes are small wooden boats used to travel across shallow bodies of water, namely rivers and lakes. A Canoe first appears in Final Fantasy, and mainly appears in the early titles of the main Final Fantasy series.
History
[
edit
]
Final Fantasy

[

edit

]

In Final Fantasy, the Warriors of Light obtain the Canoe from one of the Twelve Sages in Crescent Lake after they defeat Lich. The Canoe only has one major purpose, which is to travel across the lake leading to Mount Gulg. While traveling on the Canoe, the Warriors of Light encounter some unique enemies including Crocodiles, Hydras, Neochus, Ochus, Piranhas, Red Piranhas, and White Crocs.
In the WonderSwan Color, PlayStation, and Game Boy Advance releases, a blue oar is depicted in the sprites for a Canoe.
Final Fantasy II

[

edit

]

In Final Fantasy II, Minwu has a Canoe that he gives to the party after Princess Hilda instructs them to journey to Salamand. With the Canoe, the party is able to cross a large lake east of Altair. Unlike Final Fantasy, the party does not encounter any enemies while riding the Canoe.
Prior to the PlayStation Portable release, each version of Final Fantasy II reused the Canoe sprites from the corresponding release of Final Fantasy for the same platform.
Profiles
[
edit
]
Final Fantasy

[

edit

]
Nintendo Power volume 17 (page 38): "The only way to reach the interior of this region is by Canoe. Once Lukahn gives it to you, simply walk to the river and the Canoe will be launched."
Gallery
[
edit
]
Final Fantasy

[

edit

]
Final Fantasy
Characters
Warriors of Light
White Mage (White Wizard) • Black Mage (Black Wizard) • Red Mage (Red Wizard) • Warrior (Knight) • Thief (Ninja) • Monk (Master)
Non-playable characters
Garland • Astos • Chancellor • Jayne • Bikke • Arylon • Princess Sarah • Circle of Sages • Dr. Unne • Elf Prince • King of Coneria • Matoya • Mysterious Man • Nerrick • Sadda • Lukahn • Koppe • Broom • Bahamut • Darryl • Cid • Smyth • Underhill • Dr. Unne • Watts
Races
Lufenian • Elf • Dwarf • Mermaid
Bosses
Vampire • Four Fiends (Lich • Kary • Kracken • Tiamat) • Chaos • Chronodia (PSP, iOS, Android)
Key items
Ship • Crown • Crystal Eye • Jolt Tonic • Mystic Key • Nitro Powder • Star Ruby • Earth Rod • Canoe • Levistone • Airship • Rat's Tail • Faerie's Bottle • Oxyale • Rosetta Stone • Bell • Warp Cube • Adamantite • Lute • Crystal
Locations
Towns
Cornelia • Pravoka • Elfheim • Melmond • Crescent Lake • Onrac • Gaia • Lufenia
Dungeons
Chaos Shrine • Marsh Cave • Western Keep • Titan's Cave • Terra Cave • Ice Cavern • Citadel of Trials • Mount Gulg • Waterfall Cave • Sunken Shrine • Mirage Tower • Flying Fortress •
Earthgift Shrine (GBA, PSP, iOS, Android) • Hellfire Chasm (GBA, PSP, iOS, Android) • Lifespring Grotto (GBA, PSP, iOS, Android) • Whisperwind Cove (GBA, PSP, iOS, Android) • Labyrinth of Time (PSP, iOS, Android)
Shops
Inn • Sanctuary • Weapon Shop • Armor Shop • Item Shop • Black Magic Shop • White Magic Shop
Other locations
Castle Cornelia • Matoya's Cave • Mount Duergar • Giant's Cave • Aldean Sea • Elven Castle • Ryukahn Desert • Sage's Cave • Cardia Islands • Desert Caravan • World A
Spells
White Magic
Level 1: Cure • Dia • Protect • Blink -- Level 2: Blindna • Silence • NulShock • Invis -- Level 3: Cura • Diara • NulBlaze • Heal -- Level 4: Poisona • Fear • NulFrost • Vox --
Level 5: Curaga • Life • Diaga • Healara -- Level 6: Stona • Exit • Protera • Invisira -- Level 7: NulDeath • Healaga • Curaja • Diaja -- Level 8: Holy • NulAll • Dispel • Full-Life
Black Magic
Level 1: Fire • Sleep • Focus • Thunder -- Level 2: Blizzard • Dark • Temper • Slow -- Level 3: Fira • Hold • Thundara • Focara -- Level 4: Sleepra • Haste • Confuse • Blizzara --
Level 5: Firaga • Scourge • Slowra • Teleport -- Level 6: Thundaga • Death • Quake • Stun -- Level 7: Blizzaga • Blind • Break • Saber -- Level 8: Stop • Warp • Kill • Flare
Stats
Hit Points (HP) • Agility (Agi) • Vitality (Vit) • Magic Defense (M. Def) • Strength (Str) • Intelligence (Int) • Hit Percentage (Hit%) • Luck (Luck)
Lists
Enemies (bestiary) • Equipment • Items
Game compilations
Final Fantasy I∙II • Final Fantasy I & II: Dawn of Souls
See also:
Category
•
Gallery
•
15 Puzzle
Final Fantasy II
Characters
Party
Firion • Maria • Guy • Leon • Minwu • Josef • Gordon • Leila • Ricard • Scott
Non-playable characters
Borghen • Cid • Cid's Underling • Deumion • Elina • Nelly • Princess Hilda • The Emperor • Tobul
Key items
Black Mask • Crystal Rod • Egil's Torch • Goddess's Bell • Light of Hope • Mythril • Pass • Pendant • Ring • Sunfire • White Mask • Wyvern • Wyvern Egg
Locations
Towns
Fynn • Palamecia • Kashuan • Deist • Salamand • Paloom • Poft • Mysidia • Gatrea • Bafsk • Machanon (GBA, PSP, iOS, Android)
Dungeons
Semitt Falls • Snow Cave • Dreadnought • Deist Cavern • Coliseum• Tropical Island • Cave of Mysidia • Leviathan • Mysidian Tower • Cyclone • Jade Passage • Pandaemonium • Raqia (GBA, PSP, iOS, Android) • Arubboth (GBA, PSP, iOS, Android) • Arcane Labyrinth (Perseria) (PSP, iOS, Android)
Castles
Castle Deist • Castle Fynn • Castle Palamecia • Kashuan Keep • Pandaemonium
Stats
HP • MP • Attack • Accuracy • Defense • Evasion • Magic Defense • Strength • Spirit • Intelligence • Stamina • Magic
Lists
Enemies (bestiary) • Equipment • Items
See also:

Category

•

Gallery