The wiki is lacking in content. You can help by creating a new article. See the to do list for more ways you can help.
Gordon
From Final Fantasy Wiki
Jump to navigation
Jump to search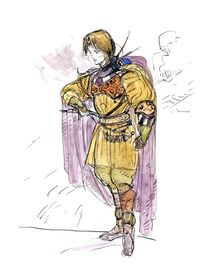 Gordon is the cowardly prince of Kashuan from Final Fantasy II. His brother Scott was killed in the attack from the Palamecian Empire, and instead of helping the fight Gordon fled. He feels great regret for his actions to this day.
History
[
edit
]
Scott's lover was Princess Hilda, and in his death Gordon took his place to protect his brother's love. He apparently harbors strong feelings towards Hilda and has surprising burst of courage when she is in danger. He joins the party in Castle Kas'ion and helps them on the attack of the Empire's airship, but eventually leaves to command the rebellion's army. He joins once more to resue Hilda from the Emperor's colliseum but leaves shortly after she is resues to remain at her side. He is a fairly weak fighter and can be more of a nuisance than help in battle.
Gordon is similar to Edward Chris von Muir of Final Fantasy IV in that both of them are cowardly princes with minimal battle power.
This article is a stub. You can help the Final Fantasy Wiki by expanding it.
Final Fantasy II
Characters
Party
Firion • Maria • Guy • Leon • Minwu • Josef • Gordon • Leila • Ricard • Scott
Non-playable characters
Borghen • Cid • Cid's Underling • Deumion • Elina • Nelly • Princess Hilda • The Emperor • Tobul
Key items
Black Mask • Crystal Rod • Egil's Torch • Goddess's Bell • Light of Hope • Mythril • Pass • Pendant • Ring • Sunfire • White Mask • Wyvern • Wyvern Egg
Locations
Towns
Fynn • Palamecia • Kashuan • Deist • Salamand • Paloom • Poft • Mysidia • Gatrea • Bafsk • Machanon (GBA, PSP, iOS, Android)
Dungeons
Semitt Falls • Snow Cave • Dreadnought • Deist Cavern • Coliseum• Tropical Island • Cave of Mysidia • Leviathan • Mysidian Tower • Cyclone • Jade Passage • Pandaemonium • Raqia (GBA, PSP, iOS, Android) • Arubboth (GBA, PSP, iOS, Android) • Arcane Labyrinth (Perseria) (PSP, iOS, Android)
Castles
Castle Deist • Castle Fynn • Castle Palamecia • Kashuan Keep • Pandaemonium
Stats
HP • MP • Attack • Accuracy • Defense • Evasion • Magic Defense • Strength • Spirit • Intelligence • Stamina • Magic
Lists
Enemies (bestiary) • Equipment • Items
See also:

Category

•

Gallery