The wiki is lacking in content. You can help by creating a new article. See the to do list for more ways you can help.
Mystic Key
From Final Fantasy Wiki
Jump to navigation
Jump to search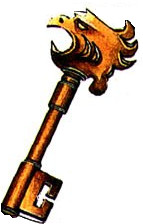 The Mystic Key, originally known as the Key, is a key item in Final Fantasy. The Elf Prince gives the Mystic Key to the Warriors of Light after they awaken him from his sleep. The Mystic Key unlocks various doors in dungeons, caves, and buildings.
Profiles and descriptions
[
edit
]
Nintendo Power volume 17 (page 19): "The key will open any locked door, but you must awaken the Prince of Elfland to get it."
Final Fantasy Origins BradyGames Strategy Guide (page 18): "Opens magically sealed doors."
This article is a stub. You can help the Final Fantasy Wiki by expanding it.
Final Fantasy
Characters
Warriors of Light
White Mage (White Wizard) • Black Mage (Black Wizard) • Red Mage (Red Wizard) • Warrior (Knight) • Thief (Ninja) • Monk (Master)
Non-playable characters
Garland • Astos • Chancellor • Jayne • Bikke • Arylon • Princess Sarah • Circle of Sages • Dr. Unne • Elf Prince • King of Coneria • Matoya • Mysterious Man • Nerrick • Sadda • Lukahn • Koppe • Broom • Bahamut • Darryl • Cid • Smyth • Underhill • Dr. Unne • Watts
Races
Lufenian • Elf • Dwarf • Mermaid
Bosses
Vampire • Four Fiends (Lich • Kary • Kracken • Tiamat) • Chaos • Chronodia (PSP, iOS, Android)
Key items
Ship • Crown • Crystal Eye • Jolt Tonic • Mystic Key • Nitro Powder • Star Ruby • Earth Rod • Canoe • Levistone • Airship • Rat's Tail • Faerie's Bottle • Oxyale • Rosetta Stone • Bell • Warp Cube • Adamantite • Lute • Crystal
Locations
Towns
Cornelia • Pravoka • Elfheim • Melmond • Crescent Lake • Onrac • Gaia • Lufenia
Dungeons
Chaos Shrine • Marsh Cave • Western Keep • Titan's Cave • Terra Cave • Ice Cavern • Citadel of Trials • Mount Gulg • Waterfall Cave • Sunken Shrine • Mirage Tower • Flying Fortress •
Earthgift Shrine (GBA, PSP, iOS, Android) • Hellfire Chasm (GBA, PSP, iOS, Android) • Lifespring Grotto (GBA, PSP, iOS, Android) • Whisperwind Cove (GBA, PSP, iOS, Android) • Labyrinth of Time (PSP, iOS, Android)
Shops
Inn • Sanctuary • Weapon Shop • Armor Shop • Item Shop • Black Magic Shop • White Magic Shop
Other locations
Castle Cornelia • Matoya's Cave • Mount Duergar • Giant's Cave • Aldean Sea • Elven Castle • Ryukahn Desert • Sage's Cave • Cardia Islands • Desert Caravan • World A
Spells
White Magic
Level 1: Cure • Dia • Protect • Blink -- Level 2: Blindna • Silence • NulShock • Invis -- Level 3: Cura • Diara • NulBlaze • Heal -- Level 4: Poisona • Fear • NulFrost • Vox --
Level 5: Curaga • Life • Diaga • Healara -- Level 6: Stona • Exit • Protera • Invisira -- Level 7: NulDeath • Healaga • Curaja • Diaja -- Level 8: Holy • NulAll • Dispel • Full-Life
Black Magic
Level 1: Fire • Sleep • Focus • Thunder -- Level 2: Blizzard • Dark • Temper • Slow -- Level 3: Fira • Hold • Thundara • Focara -- Level 4: Sleepra • Haste • Confuse • Blizzara --
Level 5: Firaga • Scourge • Slowra • Teleport -- Level 6: Thundaga • Death • Quake • Stun -- Level 7: Blizzaga • Blind • Break • Saber -- Level 8: Stop • Warp • Kill • Flare
Stats
Hit Points (HP) • Agility (Agi) • Vitality (Vit) • Magic Defense (M. Def) • Strength (Str) • Intelligence (Int) • Hit Percentage (Hit%) • Luck (Luck)
Lists
Enemies (bestiary) • Equipment • Items
Game compilations
Final Fantasy I∙II • Final Fantasy I & II: Dawn of Souls
See also:
Category
•
Gallery
•
15 Puzzle