The wiki is lacking in content. You can help by creating a new article. See the to do list for more ways you can help.
PlayStation Portable
From Final Fantasy Wiki
Jump to navigation
Jump to search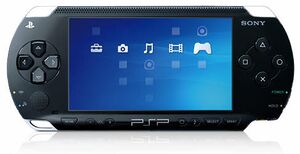 The PlayStation Portable is the a handheld system created and released by Sony and the first one released in the PlayStation line. It was first released in 2004, and like other PlayStation consoles, several Final Fantasy games were released for the PlayStation Portable. Its games were released on a proprietary optical disc format named Universal Media Disc (UMD). The device had internet connectivity, and players could buy games from the PlayStation Network service, which even had digital releases of certain PlayStation Portable games. The service was discontinued only for the PlayStation Portable on March 31, 2016.
The PlayStation Portable's main competitor was the Nintendo DS, although Square Enix developed exclusive titles for both handhelds. The PlayStation Portable also received a few Final Fantasy-related special limited edition variations.
In 2012, the handheld received a successor, the PlayStation Vita. It is not backward compatible with PlayStation Portable games, although PlayStation Network games could still be downloaded and played on it.
The PlayStation Portable's first Final Fantasy related media is a UMD Video release of Final Fantasy: The Spirits Within, which released in 2005. The second title was a UMD Video release of Final Fantasy VII: Advent Children, which released in 2005 in Japan and in 2006 in other countries. In Japan, the first Final Fantasy-related game is a crossover title with Dragon Quest, which only released in Japan. The first non-crossover game is Final Fantasy's 20th Anniversary remake, which is also the first to release outside of Japan.