The wiki is lacking in content. You can help by creating a new article. See the to do list for more ways you can help.
Developers' Office
From Final Fantasy Wiki
Jump to navigation
Jump to search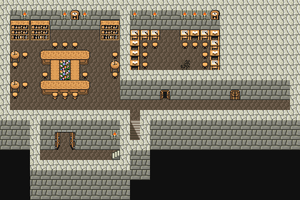 The Developers' Office is a hidden area in the Dwarven Castle of Final Fantasy IV. It is where the party can interact with various members of the game's development team. Originally exclusive to the Japanese Super Famicom release, the Developers' Office was removed from the North American localization and Final Fantasy IV Easy Type. It was later re-added in all versions starting with the PlayStation release. In the PlayStation version, the location is named Development Room, but was renamed Dev Team Office in Final Fantasy IV Advance. It has been named Developers' Office in all versions starting with the 3D remake.
The Developers' Office can be accessed from the Lali-ho Pub. To do so, the party must walk through a tile at the bottom-right corner (hinted by a cracked floor tile) and continue down a dark passageway until they reach a staircase. This leads into the Developers' Office. In Final Fantasy IV Advance, a sign just outside the Developers' Office reads "1991 Dev Team Office". Nearly all staff members are designed after a character or species in the Final Fantasy game, such as H. Sakaguchi, who appears as a chocobo.
There is a downstairs room in the developers' office where T. Tokita can be found. If the party talks to him, he tries to join them. There is also an erotic magazine, Lustful Lali-Ho, which the party can look at from the bookshelf. The book's contents are never shown, but while the party is reading it, the area turns bright pink for effect.
This article is a stub. You can help the Final Fantasy Wiki by expanding it.