The wiki is lacking in content. You can help by creating a new article. See the to do list for more ways you can help.
Final Fantasy Fables: Chocobo Tales
From Final Fantasy Wiki
Jump to navigation
Jump to search
Final Fantasy Fables: Chocobo Tales
Final Fantasy Fables: Chocobo Tales

チョコボと魔法の絵本
Chocobo to Mahō no Ehon

Developer(s):
Publisher(s):
Platform(s):
Release date:
Genre:

Adventure, minigame collection,
card battle

Modes:

Single player, multiplayer

Ratings:

ESRB: Everyone (E)
Final Fantasy Fables: Chocobo Tales is a Nintendo DS game in the Chocobo series. It was developed by h.a.n.d. and published by Square Enix in 2007. The game features a variety of gameplay styles, including minigames, exploration, and card battles. A lot of the gameplay involves Chocobo participating in minigames, each taking place in a different picture book, which are a magical type of pop-up book and the main theme of the game.
Gameplay
[
edit
]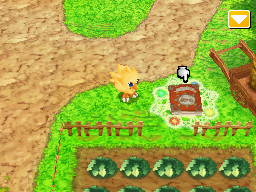 The title screen features a Chocobo face, which the player must tap with a stylus to continue. By doing so, two save slots are shown from the bottom screen. When the player starts a new save file, they must first enter a name, which is used for Chocobo.
The main Story Mode, where Chocobo must explore an open world and enter picture books to partake in each of their minigame and progress in the story.
When Chocobo first enters a picture book, an introduction to its story is shown. After that, the minigame's selection menu shows up, with a Story option (to re-read the opening) and either a Battle Mode or a Trial Mode. Usually if a picture book features both modes, Chocobo must first complete Battle Mode to unlock Trial Mode. In Battle Mode, Chocobo must compete against rivals to try and win the minigame. Trial Mode's main difference is that Chocobo is the only participant, and the mode has no time limit and continues until Chocobo is hit three times. In either mode, the player can earn a high score by either setting the first record or beating their previous score. After Chocobo obtains the magic magnifying glass, the player has the option look at extra minigame goals, each with a different reward, most often a pop-up card or a chocobo being freed from their chocobo card.
Each minigame has five levels under Battle Mode. Level 1 is always available from the start, levels 2 and 3 are often unlockable, and level 4 and 5 are always unlockable. Chocobo has a different opponent for each level:
Level 1: Jailbird
Level 2: Three Jailbirds
Level 3: Greeble

Level 4: Greeble, Peekaboo, and Volg
Level 5: Volg
The unlock criteria is different for every minigame. Every picture book has three epilogues, which are unlocked separately when their condition is met. The epilogues usually have a happy ending or a moral, and whenever an epilogue is unlocked, a miracle occurs in the overworld area. Most of them are required for Chocobo to progress.
Chocobo can interact with certain characters or even objects to play simpler types of minigames, which are known as microgames. Unlike minigames, they do not take place in a picture book and have no effect on the overworld. When Chocobo unlocks a microgame, the player can replay it from the main menu's Quick Play mode. This mode allows the player to replay minigames and microgames that were unlocked in Story Mode.
Throughout Story Mode, Chocobo must collect several pop-up cards and form decks of them to use in pop-up duels. Chocobo can obtain pop-up cards from story events, completing minigames and microgames, and from other characters. Each pop-up card has a number, and Chocobo only has one of that numbered card throughout his adventure. Many pop-up duels occur at a critical part of Chocobo's adventure, such as the four different instances where Chocobo encounters Bebuzzu in front of a crystal. Each pop-up card has a red, a blue, a yellow, and a green zone to determine their attack and defense. As such, pop-up duels are based on luck and strategy.
The game has both local and online multiplayer capabilities, where 2-4 players can compete in pop-up duels and minigames. Pop-up duels are only available in Multi-Card multiplayer and if players have obtained the professional deck in adventure mode. Both Single-Card and Multi-Card multiplayer are supported for minigames.
Characters
[
edit
]
Stories
[
edit
]
The stories are based on Aesop's Fables and Grimm's Fairy Tales. A chocobo is often the main character of the story, as shown from the book's pop-out visuals seen in the story opening and epilogues.
Microgames
[
edit
]
There are a total of 23 microgames.
Reception
[
edit
]
External links
[
edit
]
This article is a stub. You can help the Final Fantasy Wiki by expanding it.