The wiki is lacking in content. You can help by creating a new article. See the to do list for more ways you can help.
Super Smash Bros. Ultimate
From Final Fantasy Wiki
Jump to navigation
Jump to search
Super Smash Bros. Ultimate is the sixth entry of the crossover fighting series, Super Smash Bros., or the fifth if Super Smash Bros. for Nintendo 3DS / Wii U is counted as a pair. It is a Nintendo Switch game that was first released worldwide on December 7, 2018.
In the previous entry, Cloud was paid DLC, along with Midgar, music, and other material. Most of that returns, except that spirits replaces regular trophies, and the Chocobo Hat for Mii Costume.
Additionally, Sephiroth has been revealed as a paid DLC fighter unique to this game, which was released on December 22nd, 2020. This DLC also includes the Northern Cave stage, spirits, and music. Additionally, the Barret, Tifa, and Aerith Mii Costumes became available as separate purchases.
Relevance to Final Fantasy

[

edit

]
Characters
[
edit
]
"Let the Battles Begin!"
"Fight On"
"Opening – Bombing Mission"
"Aerith's Theme"
"Main Theme of FINAL FANTASY VII"
"Cosmo Canyon"
"Those Who Fight (AC Version)"
"Those Who Fight Further (AC Version)"
"JENOVA"
"One-Winged Angel"
"Advent: One-Winded Angel"
"Victory! Cloud"
"Victory! Sephiroth"
Spirits
[
edit
]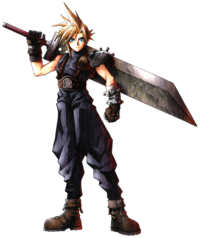 #1004 Cloud
#1005 Cloud (Advent Children)
#1439 Sephiroth
#1440 Tifa
#1441 Barret
#1442 Aerith
#1443 Red XIII
#1444 Cid
#1445 Cait Sith
#1446 Yuffie
#1447 Vincent
#1448 The Turks & Rufus Shinra
#1449 Bahamut ZERO
#1450 Chocobo & Moogle
#1451 Shiva
#1452 Ifrit
External links
[
edit
]
This article is a stub. You can help the Final Fantasy Wiki by expanding it.