The wiki is lacking in content. You can help by creating a new article. See the to do list for more ways you can help.
Moogle Forest
From Final Fantasy Wiki
Jump to navigation
Jump to search
Course No. 2
Moogle Forest
Length:
0.84 miles
Difficulty level:
2/5
Associated with:
Moogle
Theme:
Forest

Course map
Moogle Forest is a course in Chocobo Racing that takes place at a forest. Several Moogles are shown around the forest, which, along with the course name, suggests they are the main inhabitants of the area. Moogle Forest is the second course in Story Mode and is featured during "Chapter 2: Moogling Right Along!".
In Story Mode, Mog is jealous of Chocobo's success, and after getting Cid to create a vehicle for him, Mog challenges Chocobo to a race at Moogle Forest. In Story Mode, Moogle Forest is the first time Chocobo uses Magic Stones, specifically to make use of his Dash ability. With the help of his Dash ability, Chocobo manages to win the race, to Mog's disappointment.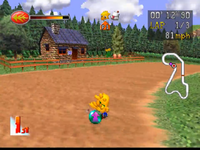 Moogle Forest has grassy embankments and a path winding through trees. There are Moogles spectating throughout the course. On each side of the starting line is a wooden fence, which have two houses and some spectators. Each of the four houses have their own design. After the second turn, there is a brick house with a gray roof to the left, and like the other houses, it is also behind a wooden fence. This is immediately followed by a wooden bridge, which is about halfway into the course, and it is located on the left slant of the course map. A waterfall is to the left of the bridge and is flowing down into the river.
After the bridge there are a few totem poles on each side. From top to bottom, the heads are of a Moogle, a Chocobo, and Golem. The left side has a wooden fence that two Moogles are standing behind. Each Moogle is holding up a sign which reads, "Let's go!". There are two teepees behind the left fence, and two more are behind the fence to the right. There is also a mushroom house on the right side, after the two teepees. It has a red cap with yellow spots, a thick branch sticking out from the left side, and a sign above its hollow entrance which reads Mog in red capital letters. A Moogle is standing outside of the house.
A curved path within the forest trees comes right after the teepees and mushroom house. This area has two tree logs above the road spanning the left and right ledges. On each log is another Moogle holding up a "Let's Go" sign. After the section, racers are back outside the forest. There is a brief turn in the road that leads back to the starting line.