The wiki is lacking in content. You can help by creating a new article. See the to do list for more ways you can help.
The Ancient Gate
From Final Fantasy Wiki
Jump to navigation
Jump to search
Course No. 3
The Ancient Gate
Length:
0.84 miles
Difficulty level:
2/5
Associated with:
Golem
Theme:
Ruins

Course map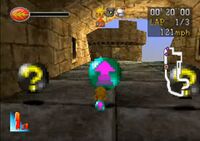 The Ancient Gate is a course in Chocobo Racing that takes place at a temple ruins. It is the third course of Story Mode and is featured in Chapter 3: A Life in Ruins!.
In Story Mode, Chocobo and Mog try to enter but are stopped by Golem, who says is too dangerous for them to pass. Golem then notices Chocobo's Blue Crystal, and he agrees to race Chocobo and Mog around the track. The Ancient Gate introduces the Magic Stones of Fire, which Golem explains before racing Mog or Chocobo. The player can play as either Chocobo or Mog, making The Ancient Gate the first course in Story Mode where the player can choose from more than one character. If the player's character wins the race, Golem joins both Chocobo and Mog on their journey.
This article is a stub. You can help the Final Fantasy Wiki by expanding it.