The wiki is lacking in content. You can help by creating a new article. See the to do list for more ways you can help.
Chocobo Racing Original Soundtrack
From Final Fantasy Wiki
Jump to navigation
Jump to search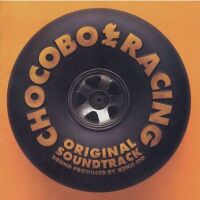 Chocobo Racing Original Soundtrack is the soundtrack album for Chocobo Racing. It was released exclusively in Japan on March 25, 1999 by DigiCube. The album consists of 30 tracks from the game, which were composed and produced by Kenji Ito. Many of the songs are remixes of variants of songs from the main Final Fantasy series of games. The album has the catalog number SSCX-10030.
Track listing
[
edit
]
No.
Name
Translation
Length
1.
ダッシュ DE チョコボ
Dash de Chocobo
1:07
2.
えらんでチョコボ
Choose a Chocobo
0:49
3.
チョコボのテーマ
Chocobo's Theme
1:45
4.
シドのテーマ
Cid's Theme
1:29
5.
モーグリのテーマ
Mogri's Theme
2:09
6.
ゆかいな旅路
Pleasant Journey
1:08
7.
ゴーレムのテーマ
Golem's Theme
1:43
8.
ゴブリンのテーマ
Goblin's Theme
2:20
9.
奇々怪々
Bizarre Mystery
1:18
10.
黒魔道士のテーマ
Black Mage's Theme
1:54
11.
白魔道士のテーマ
White Mage's Theme
3:13
12.
クルスタルの伝説
Crystal Legend
1:44
13.
デブチョコボのテーマ
Fat Chocobo's Theme
1:07
14.
ベヒーモスのテーマ
Behemoth's Theme
2:12
15.
幻獣神
Phantom Beast Lord
1:51
16.
つくってチョコボ
Make a Chocobo
0:34
17.
シドのテストコース
Cid's Test Course
1:31
18.
モーグリフォレスト
Mogri Forest
2:22
19.
巨人の遺跡
Ruins of the Giants
1:49
20.
ミスリル鉱山
Mithril Mines
1:49
21.
黒の館
House of Black
2:04
22.
ミシディア空中庭園
Mysidia's Sky Garden
2:09
23.
ハングリーランド
Hungry Land
1:57
24.
グルグ火山
Gurgu Volcano
1:59
25.
幻界
Illusion World
2:56
26.
FF8サーキット
FF8 Circuit
3:03
27.
WIN!
Win!
0:48
28.
LOSE...
Lose...
0:09
29.
世界のあした
The World's Tomorrow
1:47
30.
心のたからばこ(エンディング・テーマ)
Treasure Chest of the Heart
6:14
Total length: 57:17