The wiki is lacking in content. You can help by creating a new article. See the to do list for more ways you can help.
Dark Knight
From Final Fantasy Wiki
Jump to navigation
Jump to search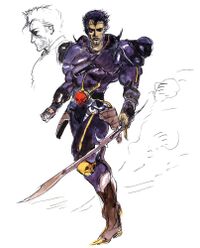 Dark Knight is a class featured in several Final Fantasy games. One first appears in Final Fantasy II as a character who serves under Emperor Mateus.
This article is a stub. You can help the Final Fantasy Wiki by expanding it.
List of classes

(

category

)
Classes that debuted in Final Fantasy
White Mage (

• Final Fantasy III • Final Fantasy IV • Final Fantasy V )/White Wizard ( File:White Wizard FF NES sprite.png) • Black Mage (

• Final Fantasy III • Final Fantasy IV • Final Fantasy V )/Black Wizard ( File:Black Wizard FF NES sprite.png) • Red Mage (

• Final Fantasy III • Final Fantasy V )/Red Wizard ( File:Red Wizard FF NES sprite.png) • Black Belt (

• Final Fantasy III • Final Fantasy IV • Final Fantasy V )/Master (File:Master FF NES sprite.png • Final Fantasy III ) • Thief (

• Final Fantasy III • Final Fantasy V )/Ninja (File:Ninja FF NES sprite.png • Final Fantasy III • Final Fantasy V ) • Warrior (

• Final Fantasy III )/Knight (File:Knight FF NES sprite.png • Final Fantasy III • Final Fantasy V )
Classes that debuted in Final Fantasy II
Dark Knight (File:Dark Knight FFII FC sprite.png • Final Fantasy III • Final Fantasy IV ) • Dragoon ( File:Dragoon FFII FC sprite.png • Final Fantasy III • Final Fantasy IV • Final Fantasy V )
Classes that debuted in Final Fantasy III
Onion Knight (File:Onion Knight FFIII FC sprite.png) • Archer ( File:Archer FFIII FC sprite.png • Final Fantasy V) • Viking (File:Viking FFIII FC sprite.png) • Mystic Knight ( File:Mystic Knight FFIII FC sprite.png • Final Fantasy V ) • Scholar ( File:Scholar FFIII FC sprite.png ) • Geomancer ( File:Geomancer FFIII FC sprite.png • Final Fantasy V ) • Conjurer ( File:Conjurer FFIII FC sprite.png ) • Bard ( File:Bard FFIII FC sprite.png • Final Fantasy IV • Final Fantasy V ) • Shaman ( File:Shaman FFIII FC sprite.png ) • Warlock ( File:Warlock FFIII FC sprite.png ) • Summoner ( File:Summoner FFIII FC sprite.png • Final Fantasy IV • Final Fantasy V ) • Sage ( File:Sage FFIII FC sprite.png • Final Fantasy IV )
Classes that debuted in Final Fantasy IV
Engineer (File:Engineer FFIV SNES sprite.png ) • Paladin (File:Paladin FFIV SNES sprite.png )
Classes that debuted in Final Fantasy V
Beastmaster (File:Beastmaster FFV SFC sprite.png ) • Berserker (File:Berserker FFV SFC sprite.png ) • Blue Mage (File:Blue Mage FFV SFC sprite.png ) • Cannoneer (File:Cannoneer FFV SFC sprite.png ) • Chemist (File:Chemist FFV SFC sprite.png ) • Dancer (File:Dancer FFV SFC sprite.png ) • Freelancer (File:Freelancer FFV SFC sprite.png ) • Gladiator (File:Gladiator FFV SFC sprite.png ) • Mime (File:Mime FFV SFC sprite.png ) • Oracle (File:Oracle FFV SFC sprite.png ) • Samurai (File:Samurai FFV SFC sprite.png ) • Time Mage (File:Time Mage FFV SFC sprite.png )